Have been both physically and emotionally occupied and challenged the past week.

Hence the silence.

It's going to be a really, really long journey hereafter.

Really long one.

Am just glad I've got Allah, and Abang to accompany me. My current main pillars of strength.

Praying for more (pillars) of strengths to come… aaaaamiiiin.

I just don't understand how some people can be so downright stupid and foolish to be doing mistakes that not only ruin their lives, but also the entire support system. Really really breaks my heart.

**

That said, went for a 1-day Project Management course last two Mondays in a prestigious hotel in the middle of the city center.

Four distinguished speakers, all specialists in their own rights – one a local Chief Operating Officer, one a foreigner with a doctorate in Quantity Surveying (who is also a Head of Department in the University he's attached to), one a local registered Architect, and one an English Architectural Professor who's also a specialist in K-Management.

I particularly enjoyed the last speaker. He was funny, witty, spontaneous – no wonder the organiser put him to be the 'bait' of the day, at 4pm! 'Nnaaatey demer.

Now, if any of you who have read my "Lolling Tongue" entry previously, this is another "Lolling Tongue" story to record.

The second speaker, say, Dr.QS, is a very experienced/seasoned speaker from what I read in the intro notes given to the participants. He's presented papers worldwide, was a consultant to this and that, now holding the post of a Head of Department in a certain Uni in Asia.

Tak kisah la tu kan. Aku memang tengah beriya sangat nak tahu apa dia nak kongsi, 'else I wouldn't have applied for the RM950/day course.

And then he started…

"Good mornings, ladies and gentlemens."

Aiyak.

But then I thought… alah, tu sikit je laah. No sweat lah -- extra 's', no 's'. Smoh (small) matter, maa.

And thench, after a wee bit of introduction on himself and the subject of his presentation (which was, shall I say, legible to the hearing lah... Can't say it was perfect, but understandable nonetheless), he began to read through his notes:

"Yada yada yada…

Agains, if an issue is perceivted as urgents, it's signifance must be analied and a certain fret analsis must be divropted immediantly, so that the potenshur impact on the project would not be lapted, neveress…. yada yada yada…"

Oh.My.Good.Goat.

"perceivted"? "signifance"? "analied"? "divropted"? "immediantly"? "potenshur"? "lapted"? "neveress"? "Fret ANALsis"???

Apa mamat ni cakap, weh???

I reached out to the notes given infront of me, scrambling through to what he's just said. Then I found it:

"Again, if an issue is perceived as urgent, it's significance must be analysed and a certain threat analysis must be developed immediately, so that the potential impact on the project would not be lapsed, nevertheless…."

Oooo, habaq laaaa.….

Aiyoh.

Sat-sat lepaih tu, apa dia baca aku pun baca sama kat notes tu. Kalau dak, tak faham!

Tapi yang magicknya, during the Q&A sessions, he was all fluent – with only minor lil smacks of pelat which is very forgivable. So, me thinks that only when he reads through yang jadi major screw-up… terbalik pulak,kan?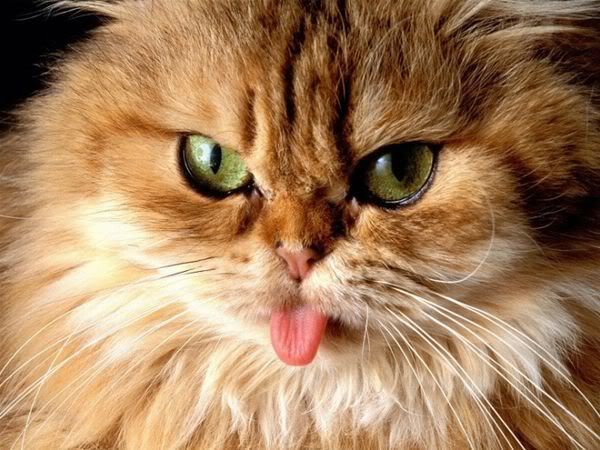 tergeliat lidah akewww


Moral of the story???

Please, please practice first should you need to present papers in languages other than your own mother-tongue. Bahaya nanti kalau tersalah bunyinya, woh. Macam cerita my first "Lolling Tongue" story tu lah.

La'ers.

f~