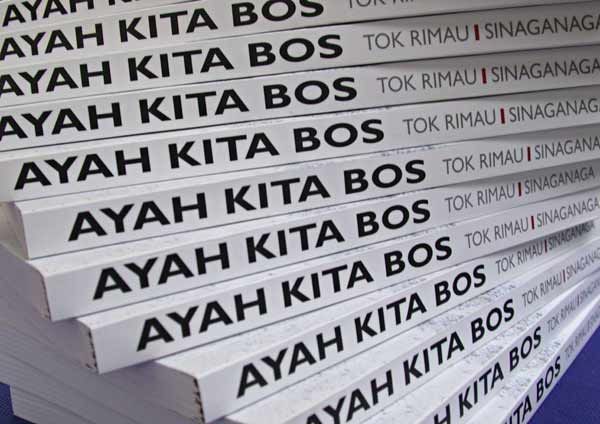 Finally, Ayah Kita Bos was launched last April 1st 2006 at Gerai 33, Laman Seni, Kuala Lumpur!

It was a simple and straight-forward occasion... the kind of occasion that hubby likes the most. A 10' x 10' gerai, a small speaker and mic, and hubby launching the book amid the late morning crowd. Nevertheless, all of us had fun, and I was equally

proud.



Mana tak nya... ini lah pertama kali I drew up some panels of cartoons under the tutelage of Dear Hubby,

and

being published too! And that my hubby bothered to be closely associated with some of My Favourite Things i.e in this case would be Tok Rimau, Naga et al... uih, bangga and besar hati, seh. Saaaaaaaaaayang Abang. Muamuah.

Ada gossip

bessst

diberitakan oleh Jonos of PEKATUN.

J:
En. Z*r, wife En. Z*r ni, kartunis yang kat Majalah M*ngg* tu ka?

Z:
Uish! Bukan! Bukan! Dia Arkitek! Tiada kaitan dengan kerjaya kartunis!

J:
Laaa, dah heboh orang gossip yang Kak A*n yang lukis dalam Ayah Kita Bos ni adalah Kak A*n yang kerja kat M*ngg*! Semua kata elok sangat lah tu, En. Z*r kawin dengan kartunis jugak!

Z:
Uish! Bukan! Bukan! Dia Arkitek!
Tiada kaitan dengan kerjaya kartunis!
On the first page of
Ayah Kita Bos
to hubby,

Naganaga
wrote, apart from his sketch of Siput instead of a Naga:
Tabik Z*r,
Naga.
And
Tok Rimau
wrote:
Z*r,

I'm inspired by you,

Tok Rimau.
I think it is more that the
both
of us
who are inspired by them two than them us!

Maka, dengan lafaz
Bismillaa hirrahmaa nirrahiim
, saya rasmikan blog
public
saya yang tah ke berapa ini untuk berkongsi cerita serta meluah rasa.

Semoga kali ni tak kena
hack
macam tahun 2003 dahulu. Terus aku malas berblogging lepas tu.
f~